RCJ Custom Shop, Your Jet Built Here By Pros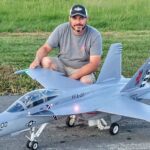 So we've known you wanted a turbine jet forever. You've been flying edf's for years now and think you may be ready to step into the fantastic world of RC turbine jets! But you don't know where to begin, how to install the engine, set gyro gains, rates, flight modes, fuel to oil ratios, expo, CG, correct batteries, your head is spinning!!! RC Jetwerx is here to help. We've helped hundreds of pilots move into turbine jets and even helped many get their waivers completed. RC Jetwerx is widely known as a premiere turbine aircraft broker, importer and builder so you're set up for success from the start.
We can install the engine, radio equipment, the gyro, the batteries, even swap out stock components for superior aftermarket components so that all you have to do is unbox the plane, assemble it per our instructions and bind/link to your radio and you're ready to go.
RC Jetwerx can do everything from radio set up to test flights, to delivery. We can provide you with every single piece of the puzzle to ensure success! We do everything right here in the US at our Texas facility. Your jet will be built by pros.
Contact us today at info@rcjetwerx.com to talk about your project
© 2019 - 2022 RC Jet Werx | High-end RC Batteries